CARELIKA- Purifying oxygenating biocellulose face mask 8 ml
Products Properties
Effect: cleanses and enriches the skin with oxygen..

Mask builds unique membrane by applying it to the face, therefore serum of the mask is evenly distributed on the face. Mask contains oxygen and has cleansing properties. It has natural ingredients only that revitalizes and tones skin. After usage skin becomes nourished with oxygen, cleansed and illuminated.
What is Biocellulose face mask?
Nanostructure of biocellulose provides that fibers can hold up to 100 times larger volume than own weight. Biocellulose masks has hight capability of absorbation, that is 10 times bigger than ordinary fabric masks. Mask perfectly adheres to the facial features. Biocellulose fibers are smaller than the smallest facial wrinkle that way provides active ingredient maximal penetration to skin. Masks are resistant to tearing and incredibly elastic due to the nanostructure. If necessary, mask can be removed and applied again to adapt it to facial contour.
Not only biocellulose is the base of the mask. Thanks to especially gentle texture biocellulose provides to skin fresh and surprising comfort feeling.
Biocellulose is nature and skin friendly material.
All biocellulose masks are placed between nylon and blue non – woven fabric protective sheets:
Blue non – woven fabric
Biocellulose
Nylon protective sheet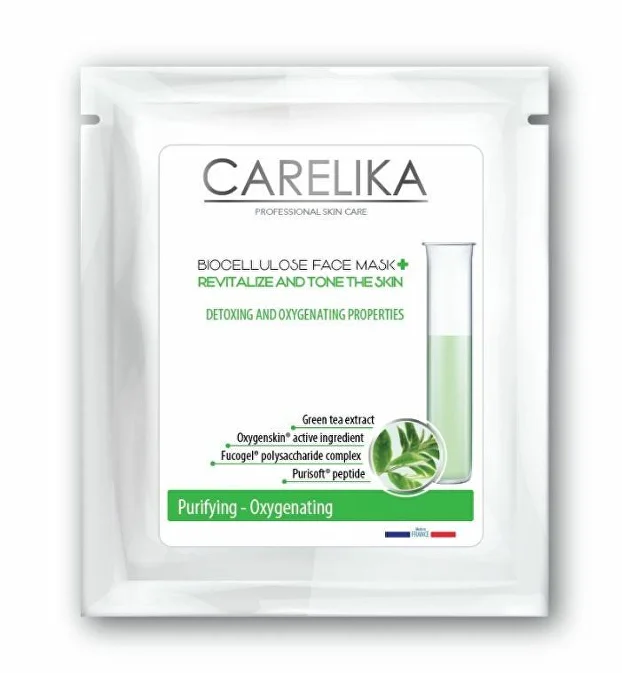 A beauty ritual for your skin
Package contains one mask for one - time usage that is ready to use.
Open the package. Biocellulose mask is placed between nylon and blue non – woven fabric protective sheets.
Remove protective sheets and grab mask between the thumb and index finger.
Apply the mask from upper face part down to the chin, adjusting it to eye and mouth zone.
Exposure time – 20 minutes.
Remove the mask.
Gently massage excess serum in to the skin.
CARELIKA- Purifying oxygenating biocellulose face mask 8 ml
Regular price
Dhs. 140.00