Carelika- Peel Off Firming Algi-Twin Mask Sachets 100 ml + 25g
Products Properties
A mask with a strong anti-age effect, which has a long-lasting effect on mature skin. Thanks to caviar protein, the mask stimulates cell activity, at the same time activates the production of collagen in skin cells, resulting in a skin rejuvenating effect. Argireline (acetylhexapeptide-3) prevents the appearance of wrinkles and relaxes the subcutaneous muscles, whose contractions are responsible for the formation of deep wrinkles.
Peppermint extract tones, tightens pores, improves facial skin, reduces fatigue, refreshes. Grants a lasting rejuvenating and strengthening effect.
Action:
anti age, strenghtening, botox effect.
A BEAUTY RITUAL FOR YOUR SKIN
Mix 25g of powder with 100ml of water in a bowl.
Stir quickly and intensively to obtain a homogeneous paste.
Apply paste on face, avoiding eye contour.
Exposure time 15 minutes, then remove in one piece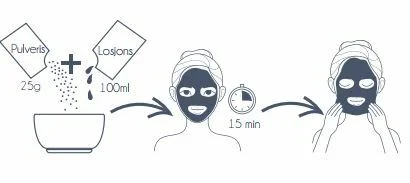 Carelika- Peel Off Firming Algi-Twin Mask Sachets 100 ml + 25g
Regular price
Dhs. 230.00